This is Simon's JOGLE Day 10 notes. Liskeard to Land's End.

[TOP] [back to day 9] [next to day 11]
The last day. You could feel the change of mood in the group - just this day to do - and then we are done. It was a late start with a bigger breakfast than normal for most people. (I stuck to my porridge-in-a-bag in my room.) It was a shorter day so no rush.
The bikes were kept overnight in the ballroom.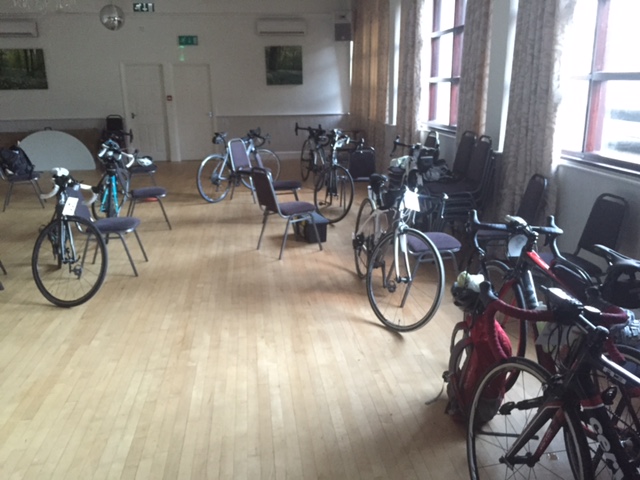 We stopped to take in the first glimpse of the sea we have had since we left Fort William in Scotland 8(?) days previously.
At the second stop of the day, we were just about to get going when my wife's car pulled up (they were off to the Viking Exhibition at Falmouth before meeting us that evening, and had just spotted this large group of cyclists and stopped) and it was just great to see Penny and Will.
Will took a couple of photos of the riders much to their amusement.
Again it was a day of open roads. More roads than views today.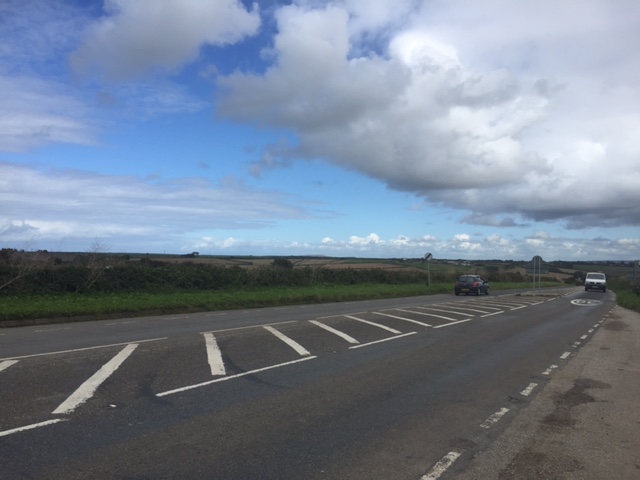 Some of the roads were well tree lined and it was like a tunnel in places. This is Steve, Nick, and Jack pushing on in front of me.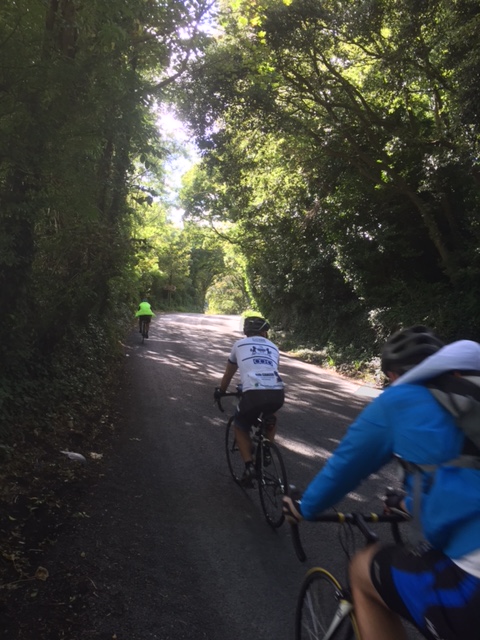 So the Tenth day was nearly done. A slow and sociable ride - trying to ride together with most of the group keeping together. Yes hilly in places, but our bodies all knew this was the end of the long hard ride - so there was some bounce in our legs, and when the last few miles got closer you could feel the excitement as the end came near. I was with Nick and he just started going faster and faster - it was like the sprint at the end of a Tour de France stage - the adrenalin flows and you just see the sprinters flying.
And then you get to see the end point - exciting...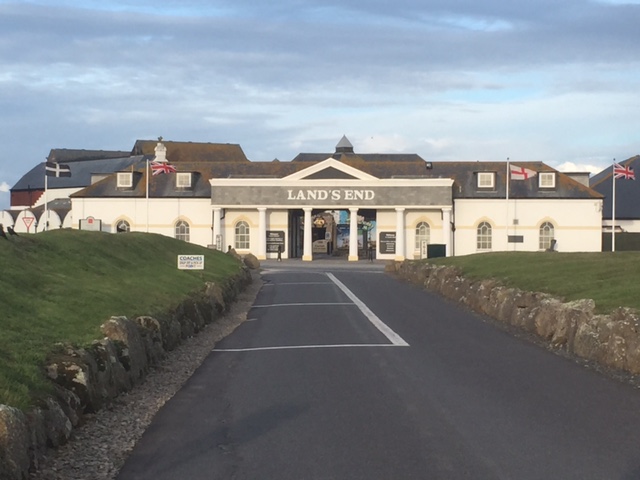 Clearly as we finished we were pleased. Kinnari, Anne, Mike, and Bob done.
And then it was down to the sign post at Land's End. Done!
Note that the sign say 874 miles to John O'Groats - that is the direct route - of course we detoured via Oxford, so ours was longer.
And after a clean up, dinner.
And Michelle was clearly pleased to have completed the ride and had so much fun - she never stopped smiling (except when in heavy traffic in Wigan etc where the cars were pretty oppressive).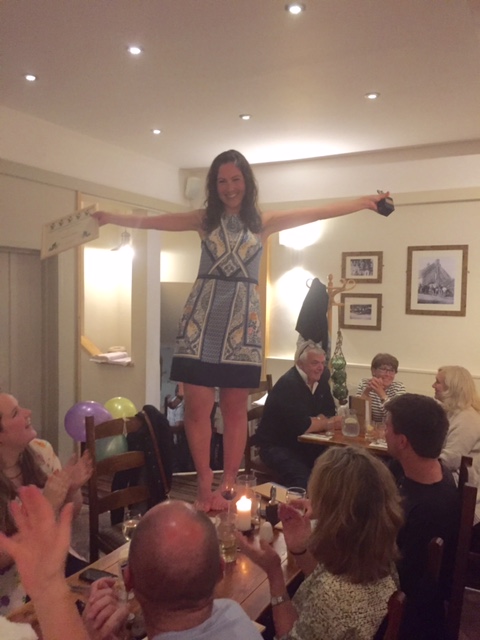 There was a presentation and brief speeches and thanks and we all had some momentos to take home with us.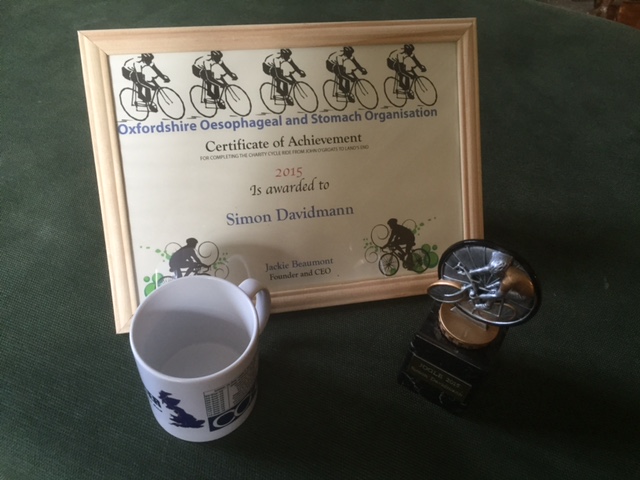 And thats all folks.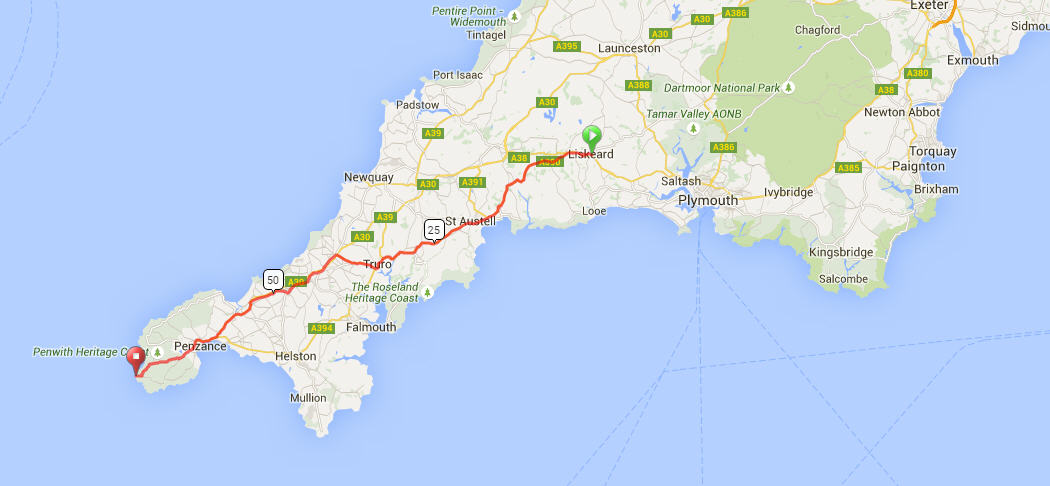 So the stats: cycled 73 miles, ave. speed 10.77 mph, 6:40 hrs on the bike, climbed 6,030 feet, ave. temp 15.4 centigrade.
Thats it. Trip Over. Job Done.
Just a note: I took many items on the trip in case they were needed. One of the few things taken that was luckily not used was an Automated External Defibrillator (AED) lent to us by my cousin Richard Macdonald of Cardiac Science.
[
TOP
] [
back to day 9
] [
next to day 11
]