This is Simon's JOGLE last entry - Disaster

[TOP] [back to days 12-14] [Next: Mount Hamilton]
So having come back from the ride of my life, and being in Wigan to pick up Richard, and going for my first 10K run in about 4 years, I wanted to go for a bike ride...
So the sunday after my JOGLE ride, I signed up for a 100 mile ride in Gloucestershire, yet another up and down in the Cotswolds...The JOLE Rider Cotsworld Sportive from Westonbirt school.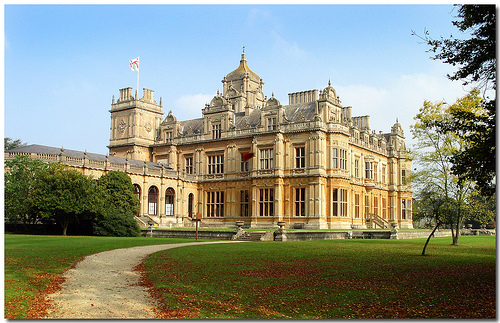 It was a great morning - early start, lot of mist, lovely school grounds at Westonbirt to start from and then the ride started with some good climbs.
I was getting more tired than usual?
At about 40 miles there was a long hard climb...
I could hardly move the bike up the hill... it was as if somebody was pulling me back.
It got to the point where I could just not get up the incline...
I stopped and got off the bike.
I could not push the bike - the back wheel had jammed.
On closer inspection the rear wheel was buckled and was rubbing hard against the brake blocks.
I adjusted, centered the wheel, released the brake mechanism but still could hardly move the bike.
I carried the bike to the top of the hill, out of the way of other riders.
On examining the wheel, I noticed something odd on the rim.
My ride was over - catastrophic rim failure. The spokes were breaking through the rim. Phoned the support vehicle to take me back to base. My day was done.
Strange - 1,000s of miles of training. 1,000 miles JOGLE ride. Bike all OK. The very next time I ride - my bike fails. Strange - but hey, I guess I won't be needing it for a while as my cycling is done. (For now.)
[
TOP
] [
back to days 12-14
] [
Next: Mount Hamilton
]