This is Simon's JOGLE Day 4 notes. Lanark to Penrith.

[TOP] [back to day 3] [next to day 5]
So we start the new day from Lanark to head down from Scotland to England.
The day always starts with getting our bikes ready. Steve ready to go.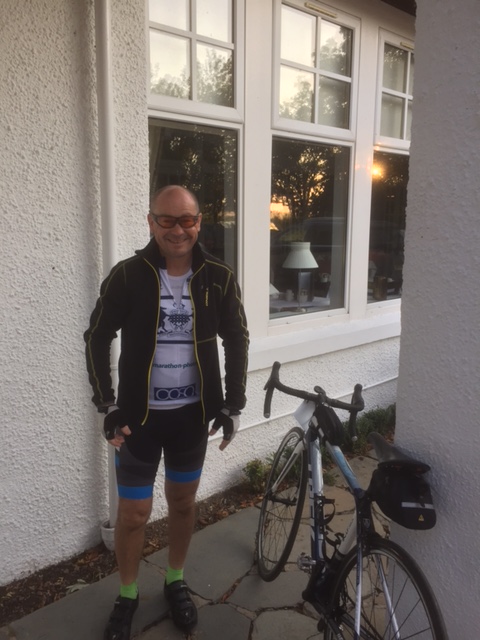 And Jonathan always checked over his bike, cleaned the chain, oiled the gears, and checked his bike was serviceable (later we shall see why this is so important...).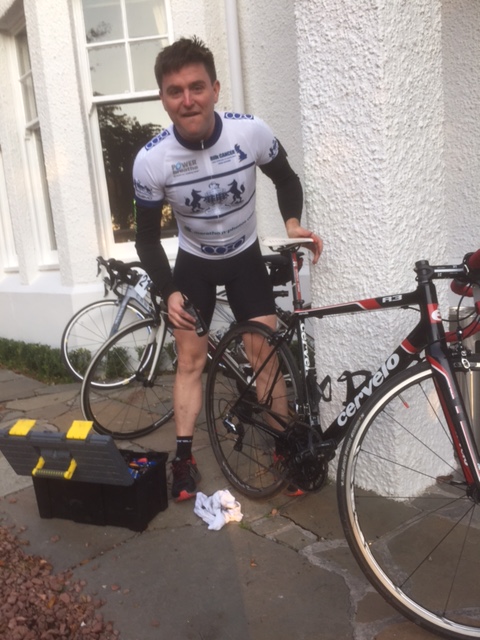 We need to make sure all our luggage gets into the support vehicle.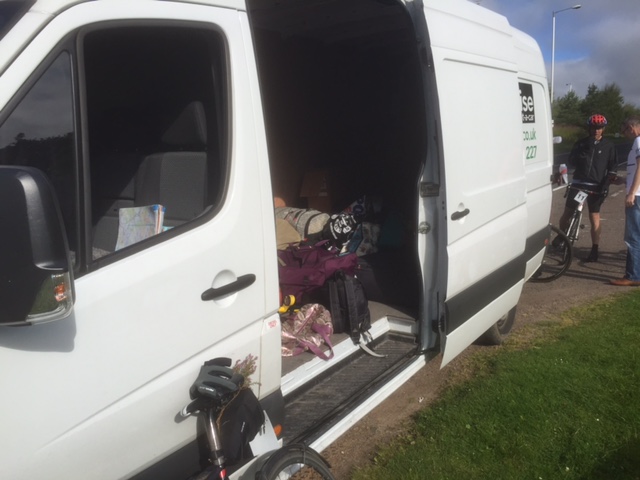 Then we are off to see some great views.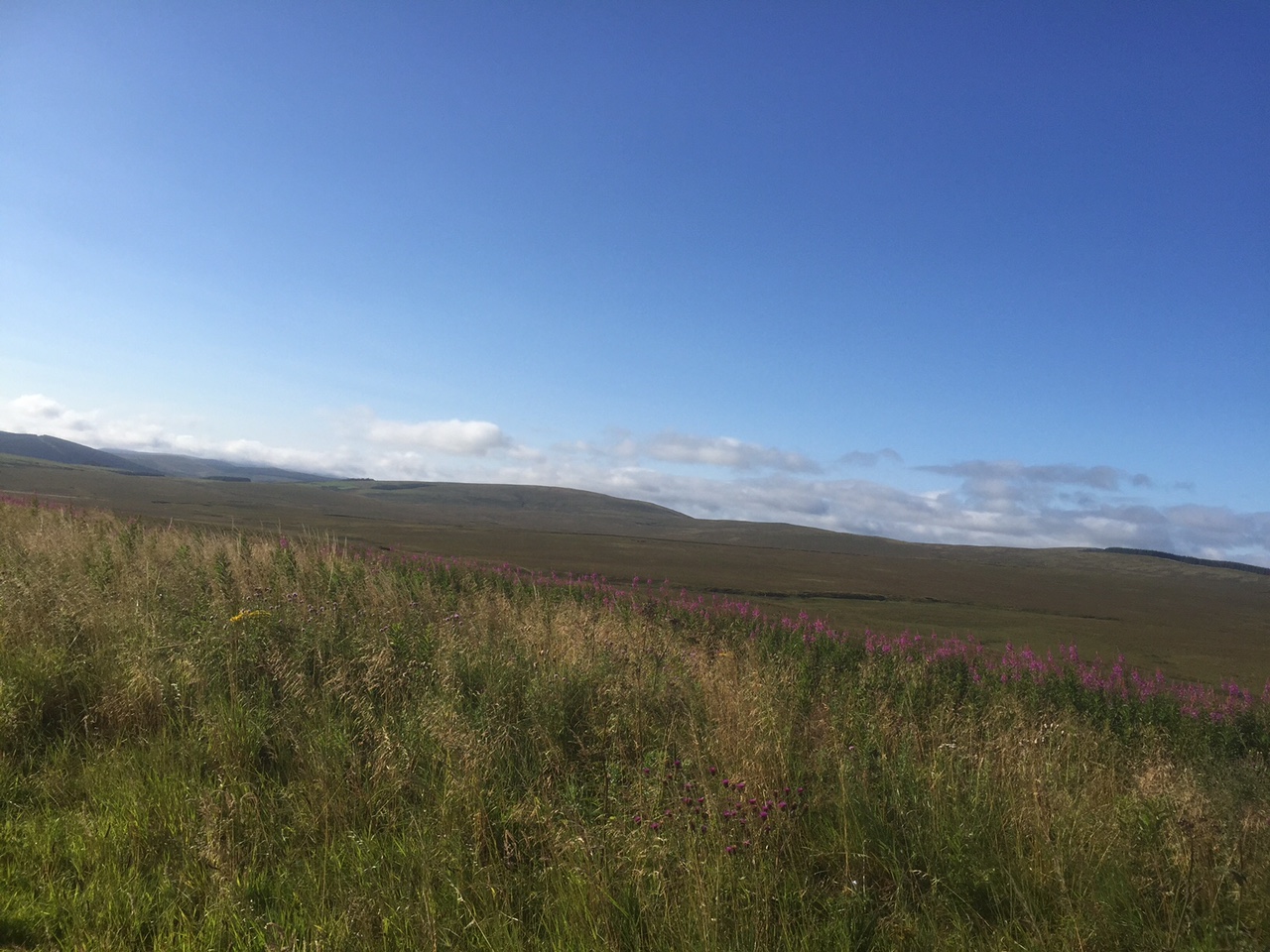 But on a cycle path I found this - not sure what it is - but a cycling theme. It was about 8 ft high. Any ideas?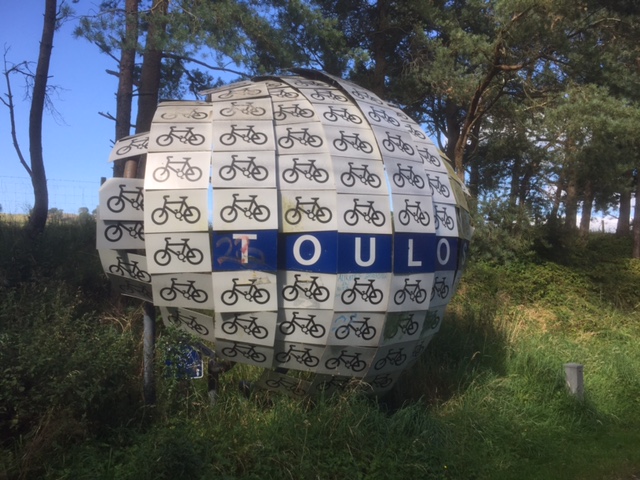 And some cyclists have more skills than others. Bob and Kinnari. (Note there is only 1 out of 4 hands on the bikes.)
Richard with nothing to worry about.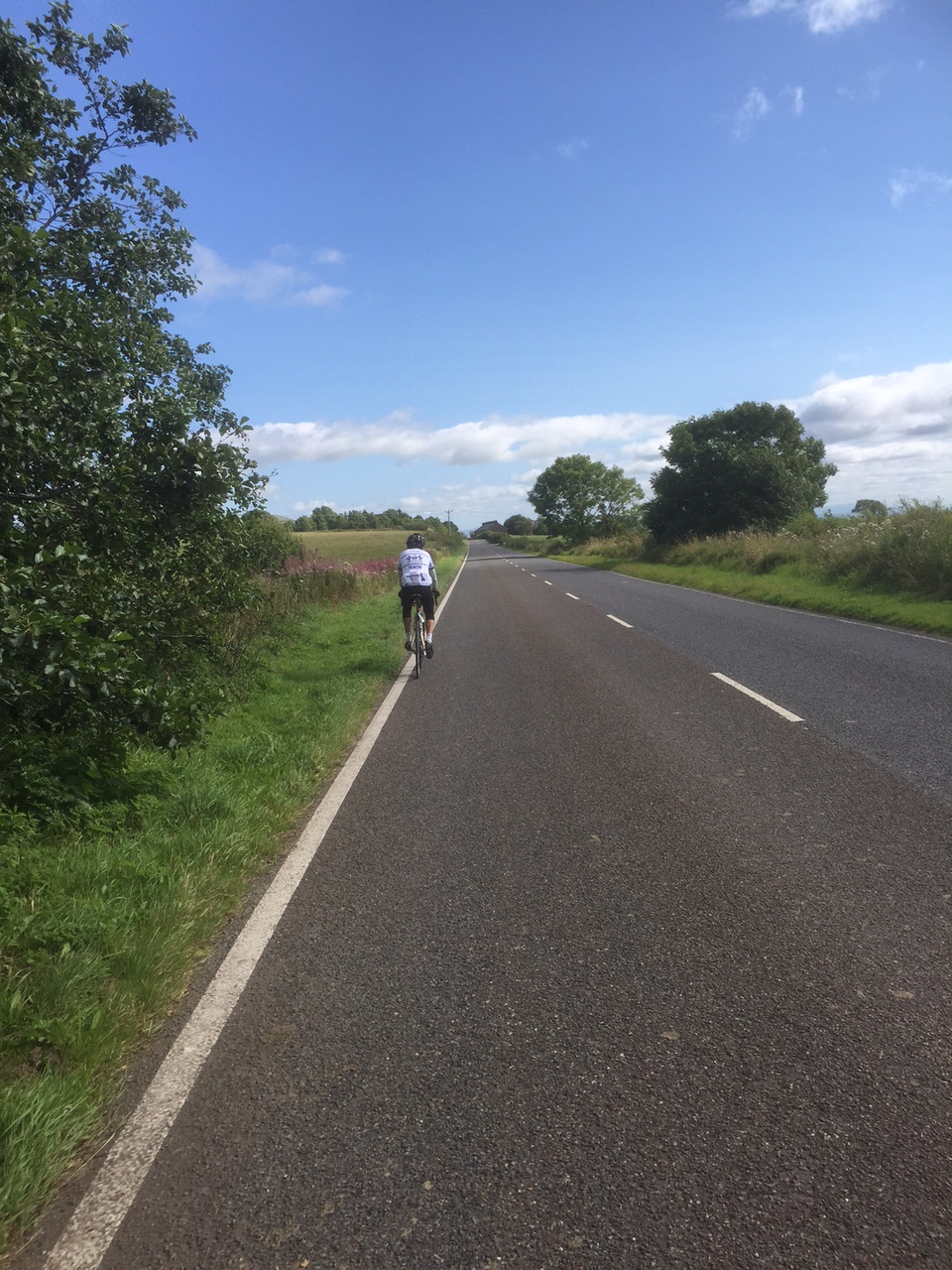 Before long we come to the last house in Scotland. Of course this is Gretna where in days of old people used to elope to get quick weddings... hence the sign about 10,000 marriages.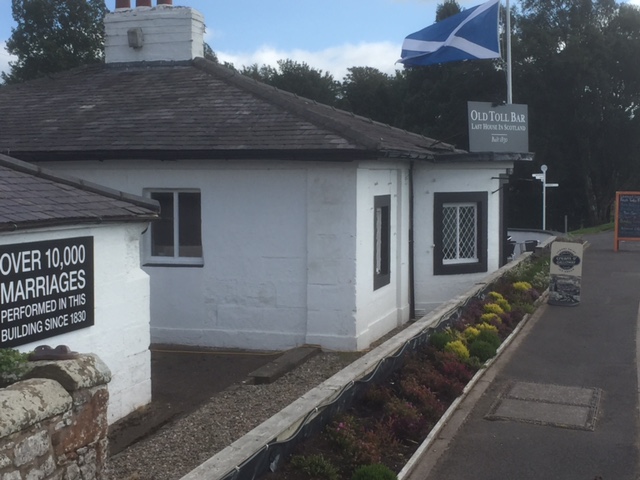 And then into England we go.
First town is Carlisle - which is nice.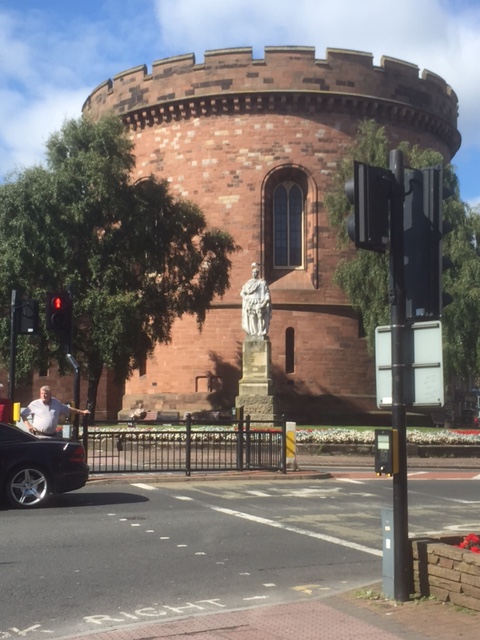 But has a rather far too many of these - I got stopped at 25 out of 32 that I went past. Tedious.
And navigation often has its challenges too. Most of us use a Garmin Satellite Navigation system - a lot are the Garmin 810 - with maps, turn by turn instructions, and it records speed, elevation, climbing, cadence of pedals, etc.
At one point in the ride we were a group of 6 coming up to a complex junction and roundabout. 5 of us had Garmin 810s. As we got to the junction we expect turn directions - all the Garmins had turned off - what was that - EMP? - nope - I guess a simple software bug, with complex mappings, and crash - good job we could just stay put, reboot, reset maps and continue. The Garmin 810 is a great piece of equipment though it does have the odd crash and most of the time it is just great.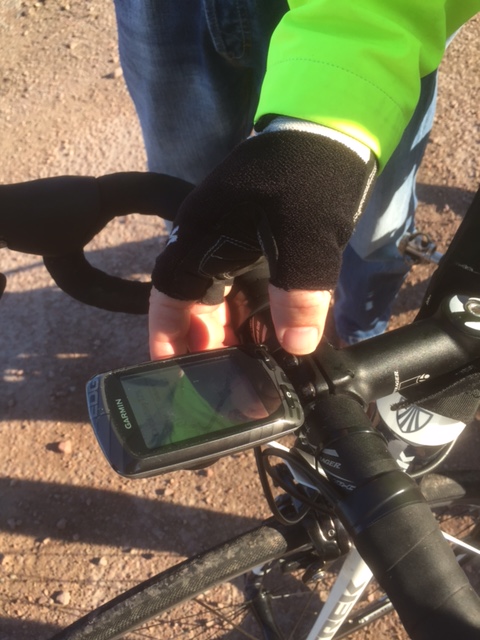 And yet more lovely views - this time in England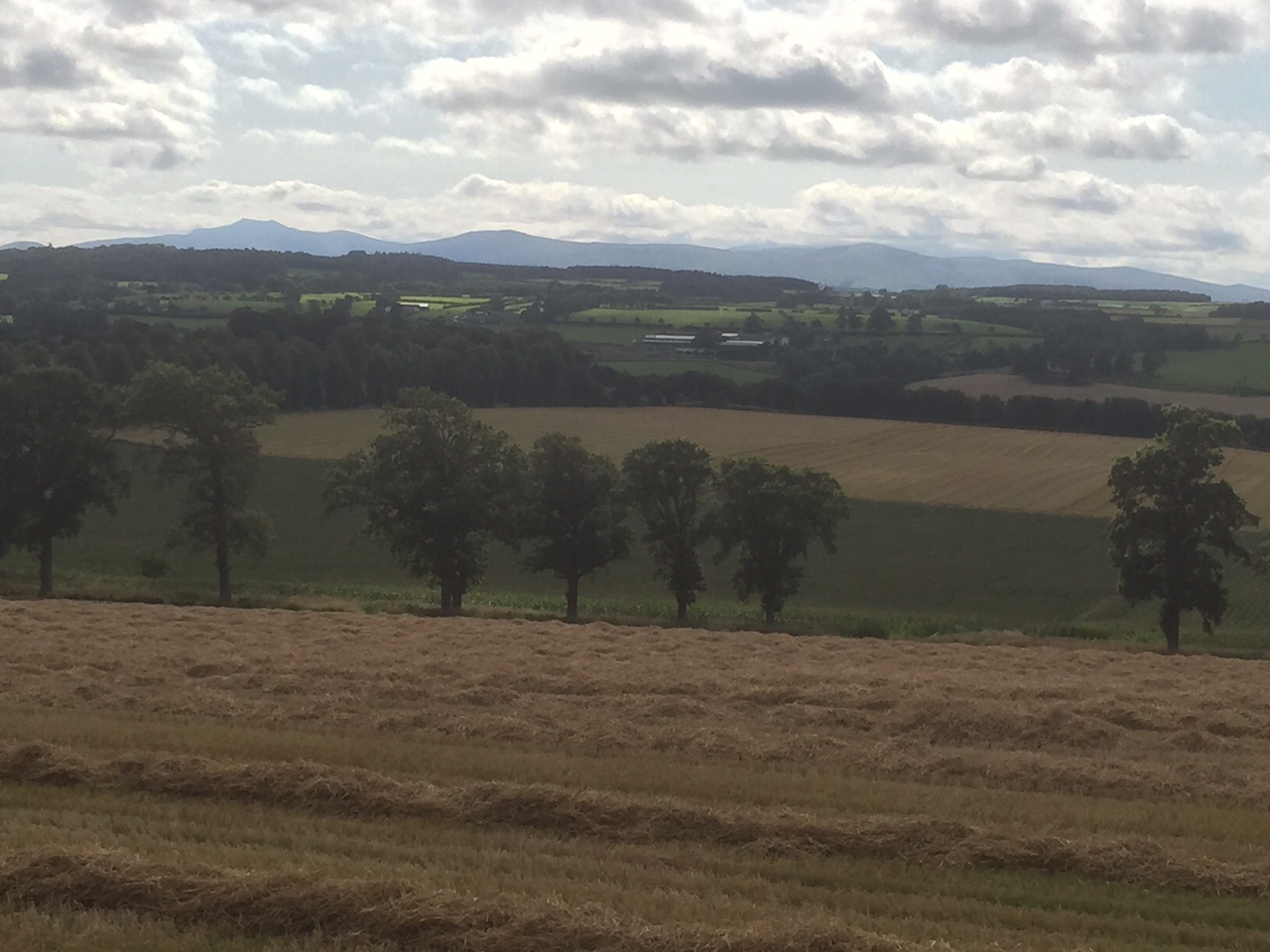 The hotel was up a hill and later in the day there was a nice sunset view.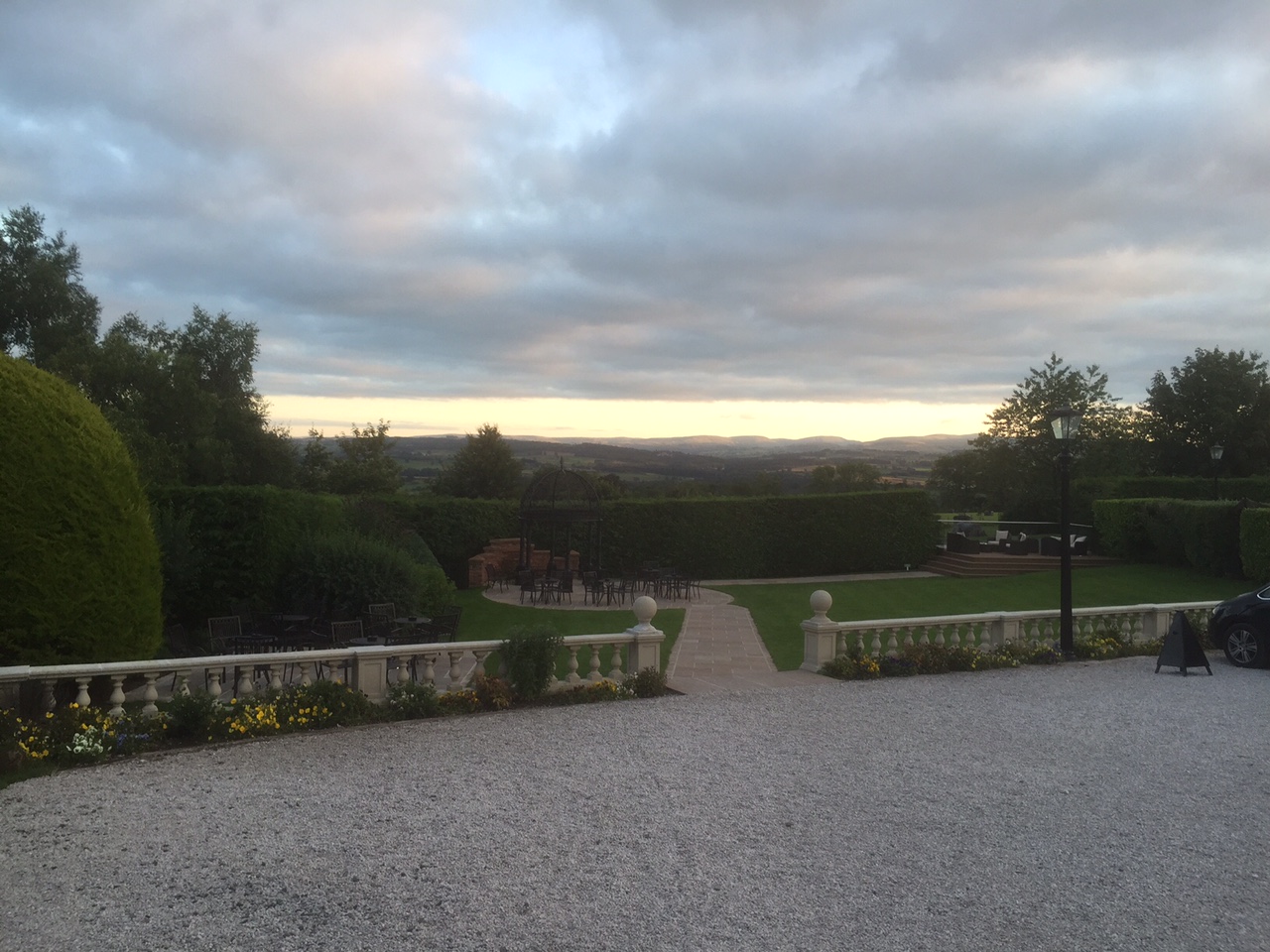 So the Fourth day was done.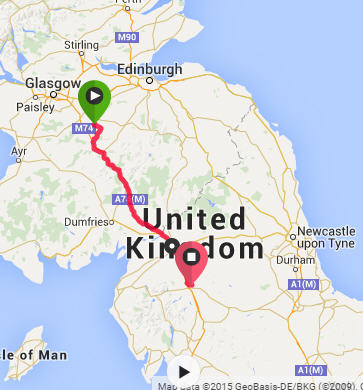 But actually it was a very tough day for me. I started with a group at the back - but could not find a pace - I went ahead and waited, or got out of a rythmn by holding back - at 70 miles I was told the next group ahead was about 5 mins ahead... so decided to go catch them = bad move. The 5 mins was old information - they were more like 15 mins ahead - and by the time I started after them I had no chance of catching them up - and so I did the last 30 miles on my own - chasing down the group ahead - and I went too fast - and just hurt and hurt - when I got to where I thought the hotel was - there was just a big climb to it - I was already done and was none too happy with the hill. On check-in I found my room had no bath... - my friends know I am easy going - so this was no problem for me. Tomorrow I will be more sensible with my riding (and my room will have a bath).

.
So the stats: cycled 99 miles, ave. speed 14.0 mph, 6:59 hrs on the bike, climbed 5,243 feet, ave. temp 15.4 centigrade.
[
TOP
] [
back to day 3
] [
next to day 5
]