This is Simon's JOGLE Day 5 notes. Penrith to Wigan.

[TOP] [back to day 4] [next to day 6]
First - my bike... so when I decided I would do this ride it was just before Christmas - so about 8 months ago... I talked to several people and planned to buy a new bike - I needed a new toy to entice me to get out on it and to get fitter.
So with Richard's help in the USA I bought this TREK Madone 5.2. It is a full carbon fibre bike with the frame weighing in at less than 800 grams. It has carbon forks, seat post, bars etc.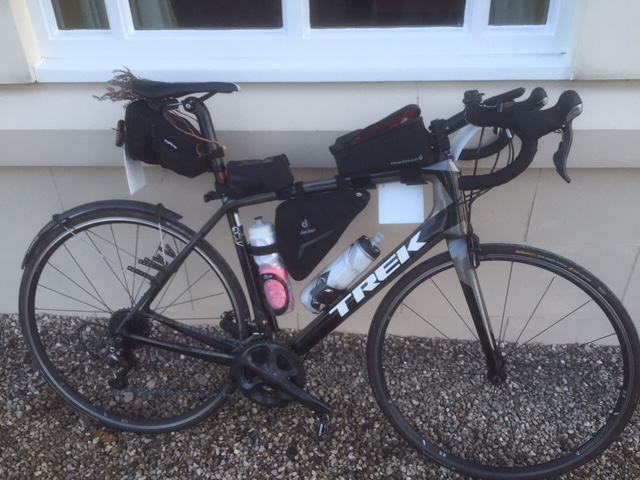 You can notice that it has bags under the crossbar, on top of the crossbar and a large one under the seat. And they get filled with my food for the ride - I tend to carry 2,500 calories worth of food for a 100 miles ride.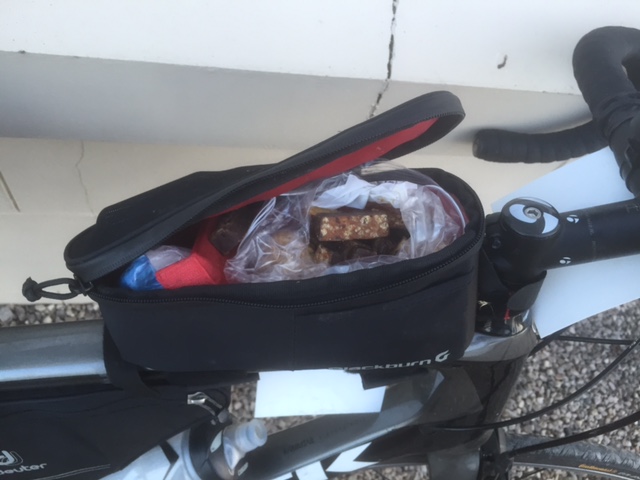 One of the interesting features is that the bike has the back brakes hidden away behind the crank - for aerodynamics... (not much use for me as I put so much else on the bike.) I also fitted some all season tyres that are meant to be pretty indestructible - they should not puncture easily - but are slighly harder to ride - more resistance to movement. I think this is a good tradeoff against the efforts of punctures.
And on the back under the saddle I have my tools, spare tubes, etc and also more food, spare gloves etc. And also from Glencoe some heather...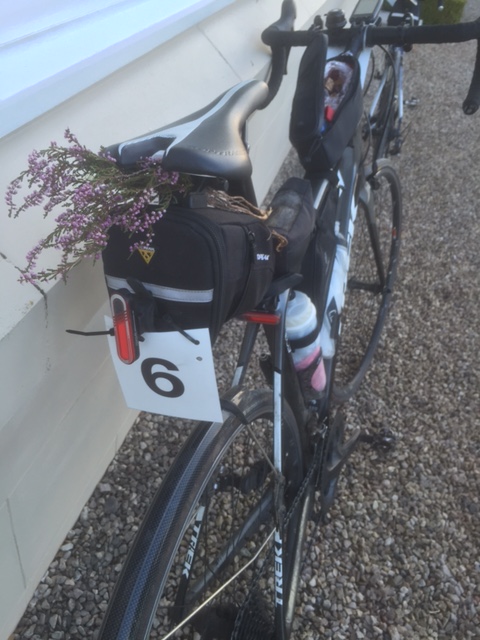 The latest addition is a 'sound system'. This is a fantastic Bluetooth loudspeaker attached by a bungee cord that connects to my iphone so I can play loud music when I am flagging during a ride (of course only loud when there are no others to hear it). It is from Logictech - a 'UE Roll' - waterproof and USB chargeable and the sound quality it just great. [link here.]
So the ride was going to be an easy ride down to Wigan. The decision was made to avoid the Lake District as it would have meant too many climbs and would risk our abilities to get to Land's End. We would wear ourselves out in the Lakes - and so we go on main roads, on a not very scenic route through several built up areas - Kendal, Lancaster, Preston, and then into Wigan just as the afternoon traffic builds up.
We started the ride with the long, largish and main climb of the day - up Shap Summit in Cumbria - the highest point of our JOGLE ride. A wonderful vista in all directions.[Zoom into the photos to see the distance.]
Steve on Shap Summit.
Bright sunshine and support vehicle on top of Shap Summit. Bob and Anita.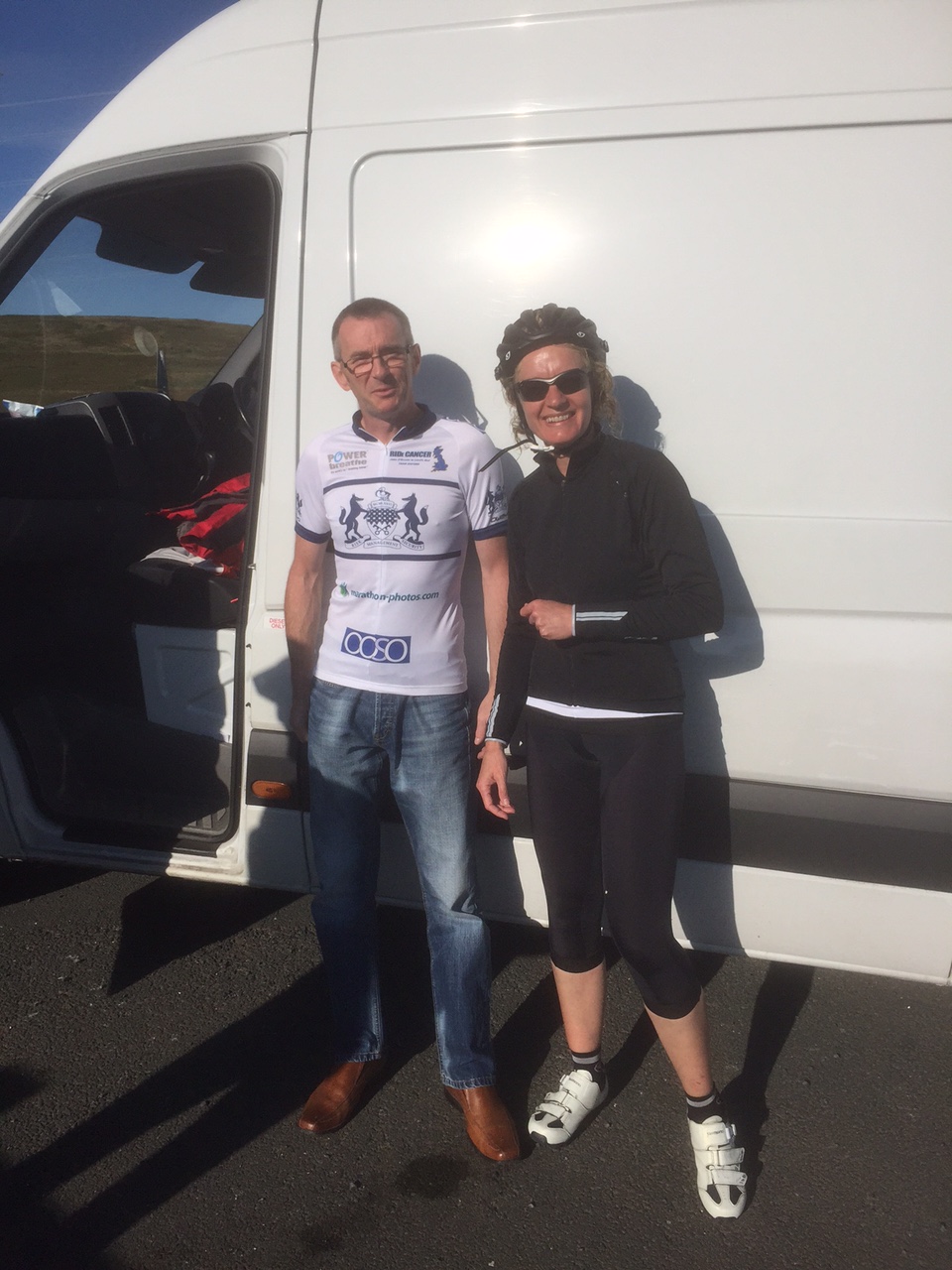 We then just had a nice long descent and onwards through the many built up urban areas. Coming into Lancaster I was crossing a bridge and saw this interesting shape on the skyline - a nice old Victorian building I guess (poor focus & framing as I was riding...)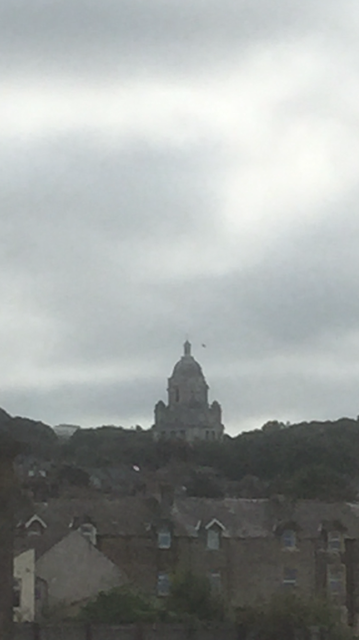 And of course this is an industrial nation so we pass busy factories.
However England is a beautiful land and there were some great views.
On either sides of the road.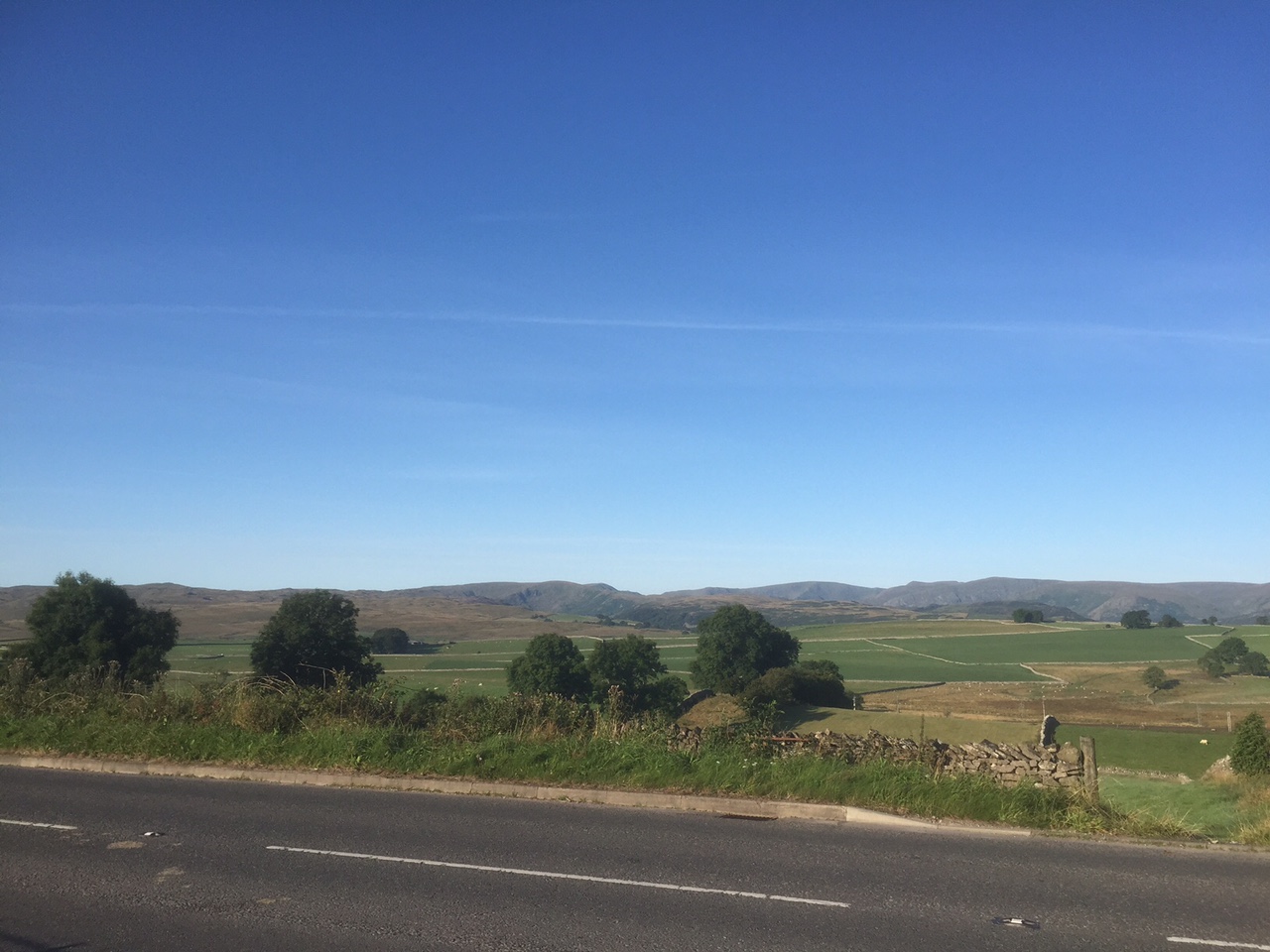 With the visibility for miles.
And then coming to within 10 miles of the overnight stop in Wigan - disaster struck. As I was pedaling up a small hill I felt my left foot disengage from the bike - normally I am clipped in - but it did not feel like my foot clicked out - as there was some other weight moving my foot around. I wobbled and stopped to find that my crank had come off the bike and was banging around on the floor.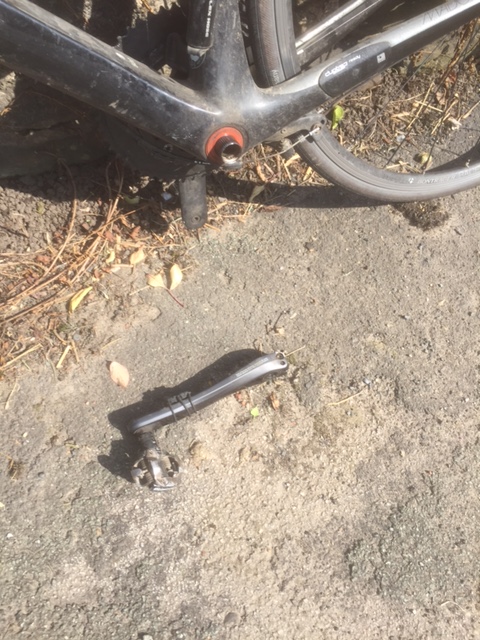 I tried to put it back on - but somehow it would not stay on - so I carefully cycled the last few miles with most pressure on the other foot. When at the hotel I checked in with Jonathan - who is the most experienced rider with us and he had just what was needed - some simple clever purpose-built tool for helping put cranks back together properly. Sorted!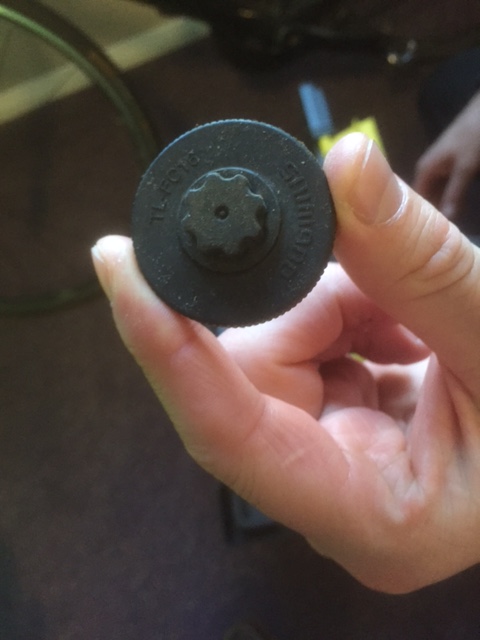 I then had a drink with Kate Macdonald - Penny's sister, as she lives in Manchester - I gave her a piece of my Glencoe heather... as I had been thinking of the Macdonalds during my ride through Glencoe.

I went for dinner in Wigan that evening and was taken to a lovely Italian restaurant where the prawns were just the biggest I have ever seen. [I had a three course meal including tiramisu!]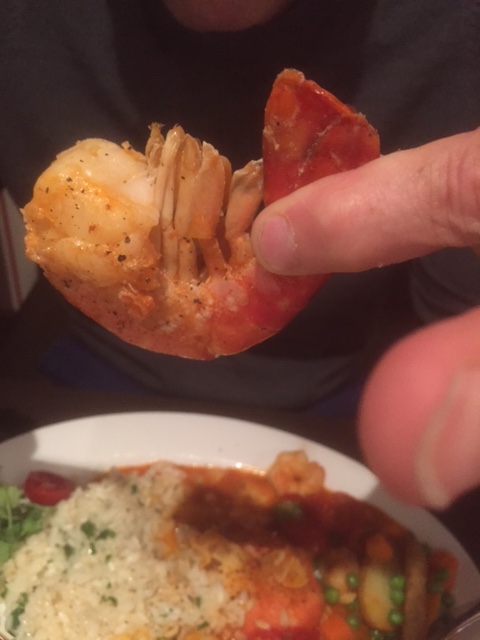 And that brought the Fifth day to a close.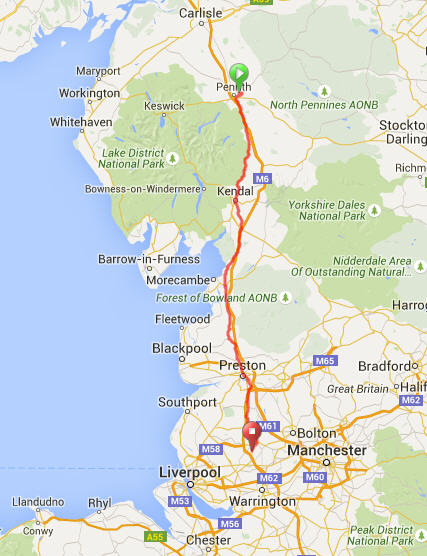 .
So the stats: cycled 92 miles, ave. speed 13.3 mph, 6:51 hrs on the bike, climbed 4,563 feet, ave. temp 15.4 centigrade.
[
TOP
] [
back to day 4
] [
next to day 6
]