This is Simon's JOGLE Day 2 notes - Dingwall to Glencoe.

[TOP] [back to day 1] [next to day 3]
I have looked forward to this day for a while - to cycle down the length of Loch Ness, and then into Glencoe.
One thing I was also concerned about was the fact that yesterday I had cycled over 100 miles and today I was going to do the same - I have never cycled such distances back to back (yes I know that I have just set out to do similar distances day after day for 10 days...)
Up early for day 2 - we planned to have breakfast at 06:30, pack the bikes and be off for 07:00. The hotel was great, large pot of porridge - just the job in Scotland. On the ride there are 11 of us doing the whole distance - 7 men, 4 women. Not all of them came down to breakfest - I tend not to as I have powdered porridge in my room.. We also are lucky to have 3 people supporting us in 2 vehicles.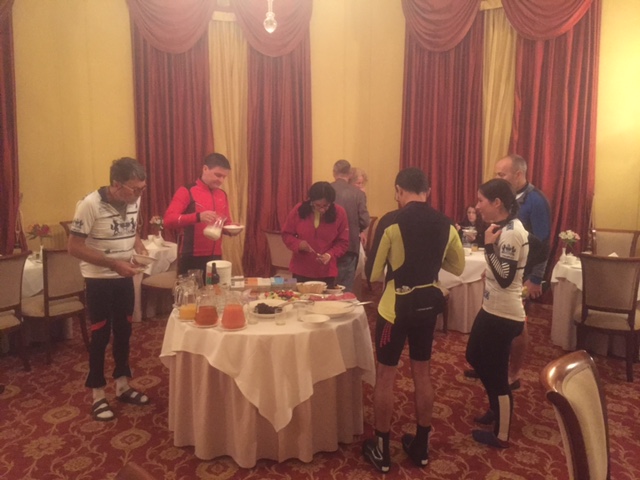 First hill of the day - a long slow one - great, not a lot of traffic.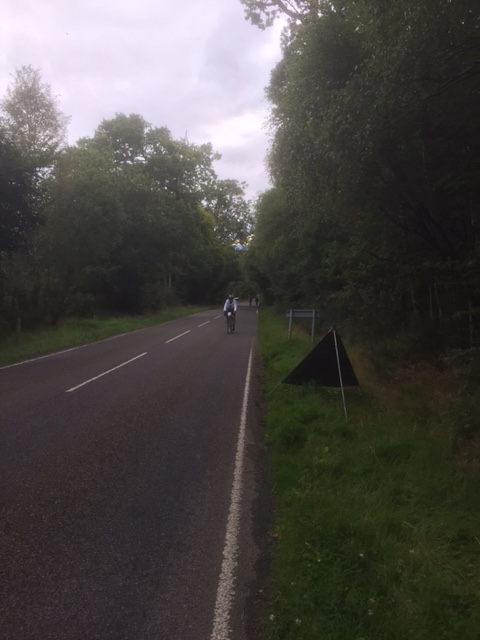 Mike was first to the top - but it is not a race.
As we reached the top the views start opening up - it was cold though and not much blue sky.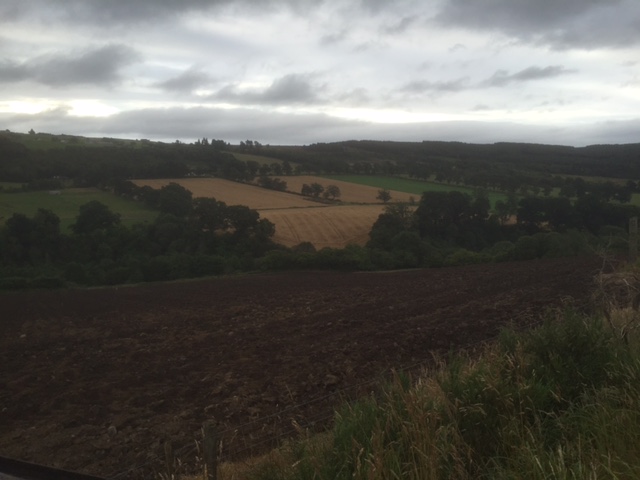 And at the top of a longish climb we often stopped for some food, drink and to admire the views and take some photos. Here are Richard, Nick, and Bob.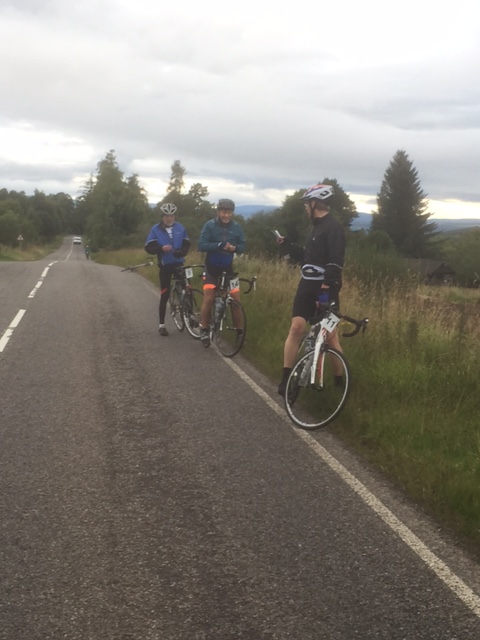 Simon in front of the first sighting of Loch Ness - and we were going to be cycling down one whole side of Loch Ness - over 25 miles.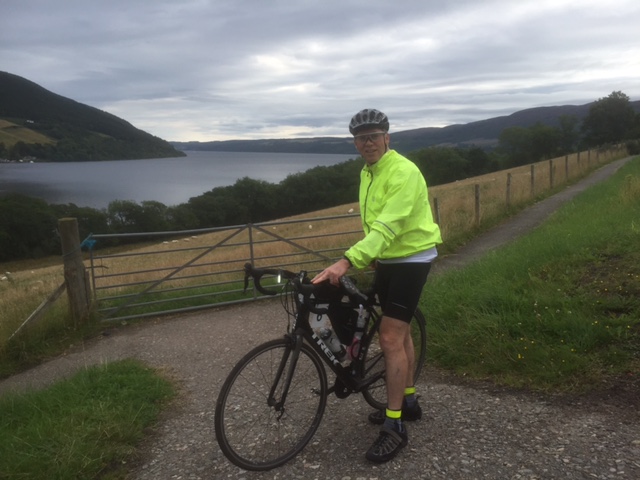 Lock Ness went on and on - it reminded me of my trainng ride around Lake Tahoe in California early in the year - but on the Scottish busy roads around the Loch the lorries came a little too close sometimes. It took a good couple of hours before we left the Loch - and sadly no sightings of Nessie.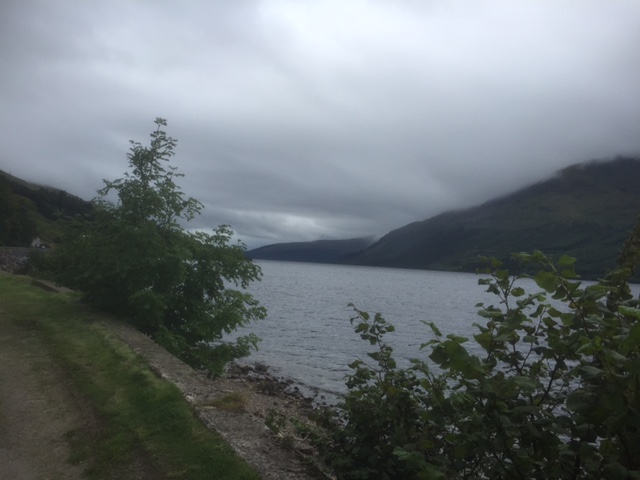 Commando Memorial
After emerging from a tree lined road we came across the Commando Memorial at Spean Bridge. It is a large three-figure bronze statue commemorating the service and sacrifice given by thousands of British Commando Forces. The Commando Memorial overlooks the Great Glen and the hills, glens and moorland where soldiers trained for missions during World War II. We stopped for a while to reflect.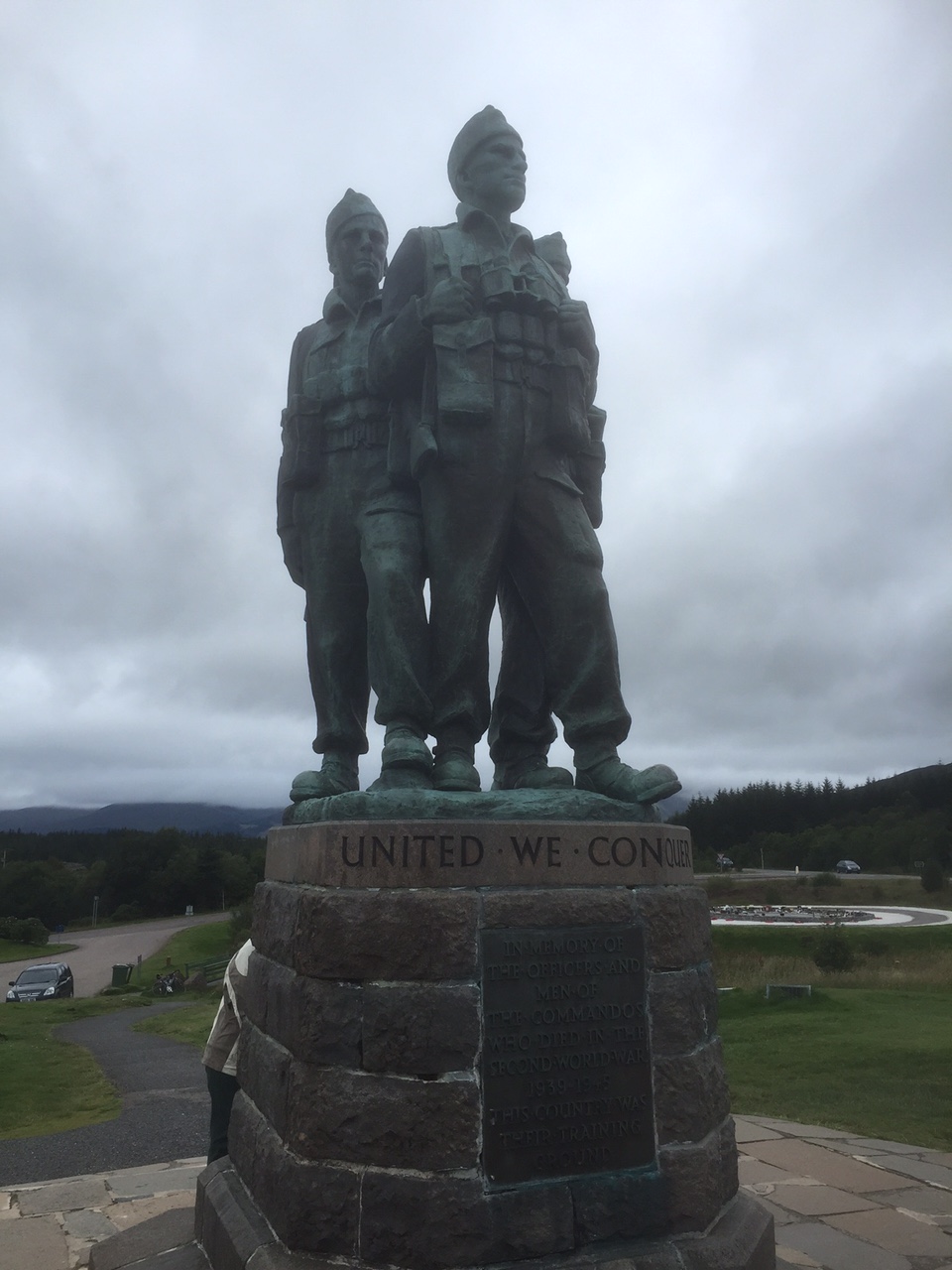 Onwards we went. We were going to skirt around Ben Nevis (highest mountain in Great Britain) as we headed for Fort William - but we could not find Ben Nevis - due to low clouds.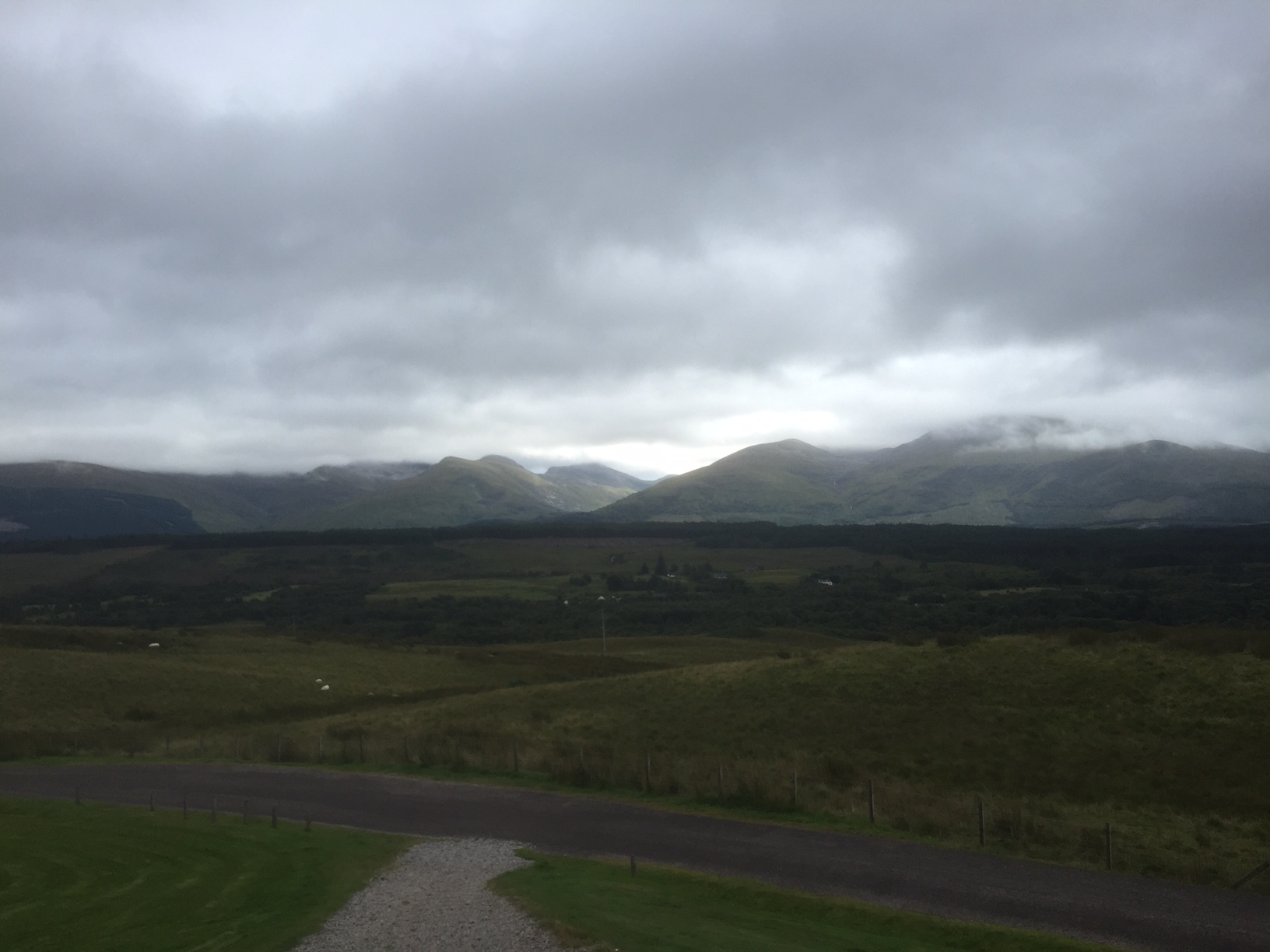 Maybe we were looking in the wrong direction?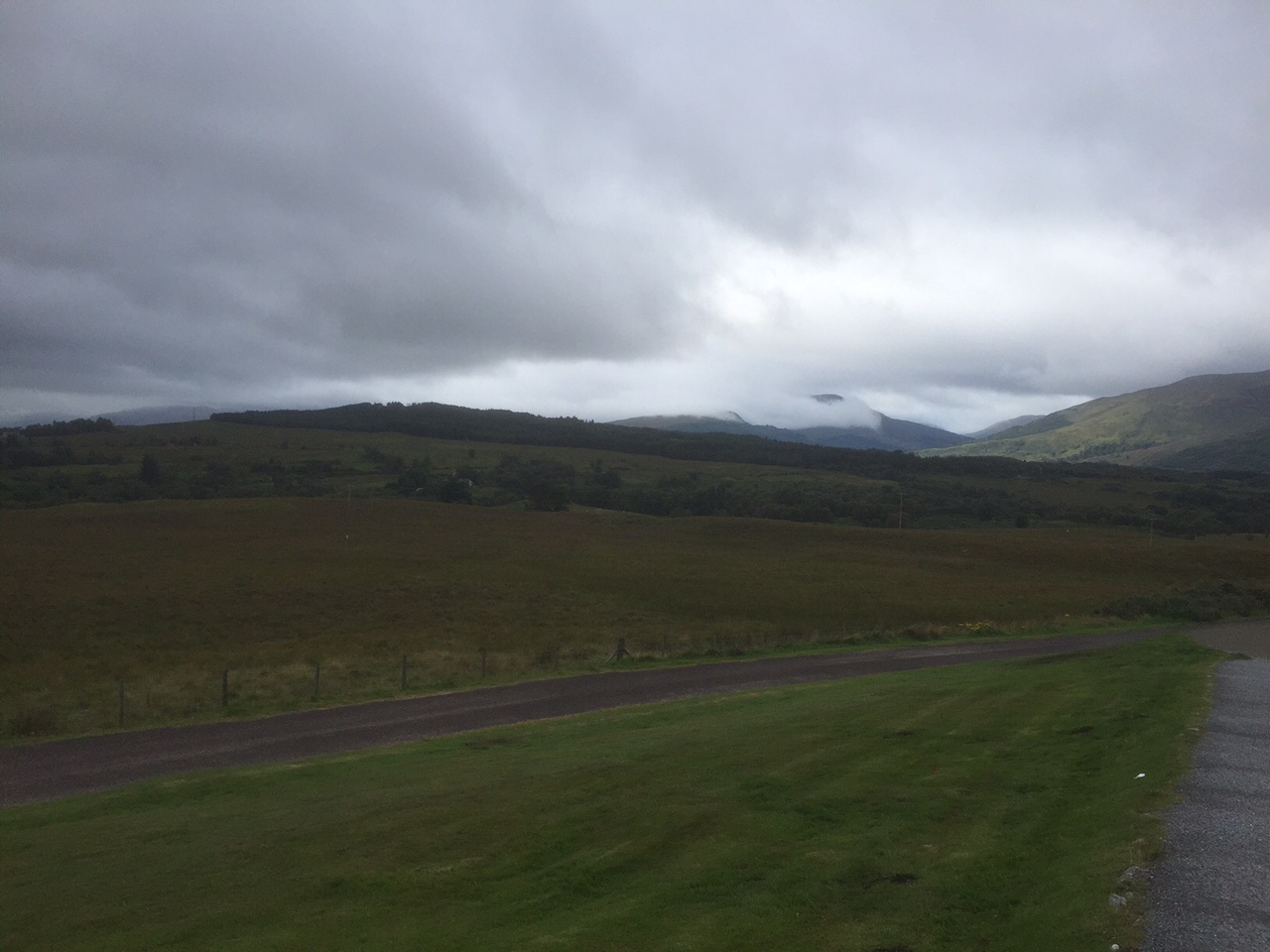 We moved on and came across more Loch views.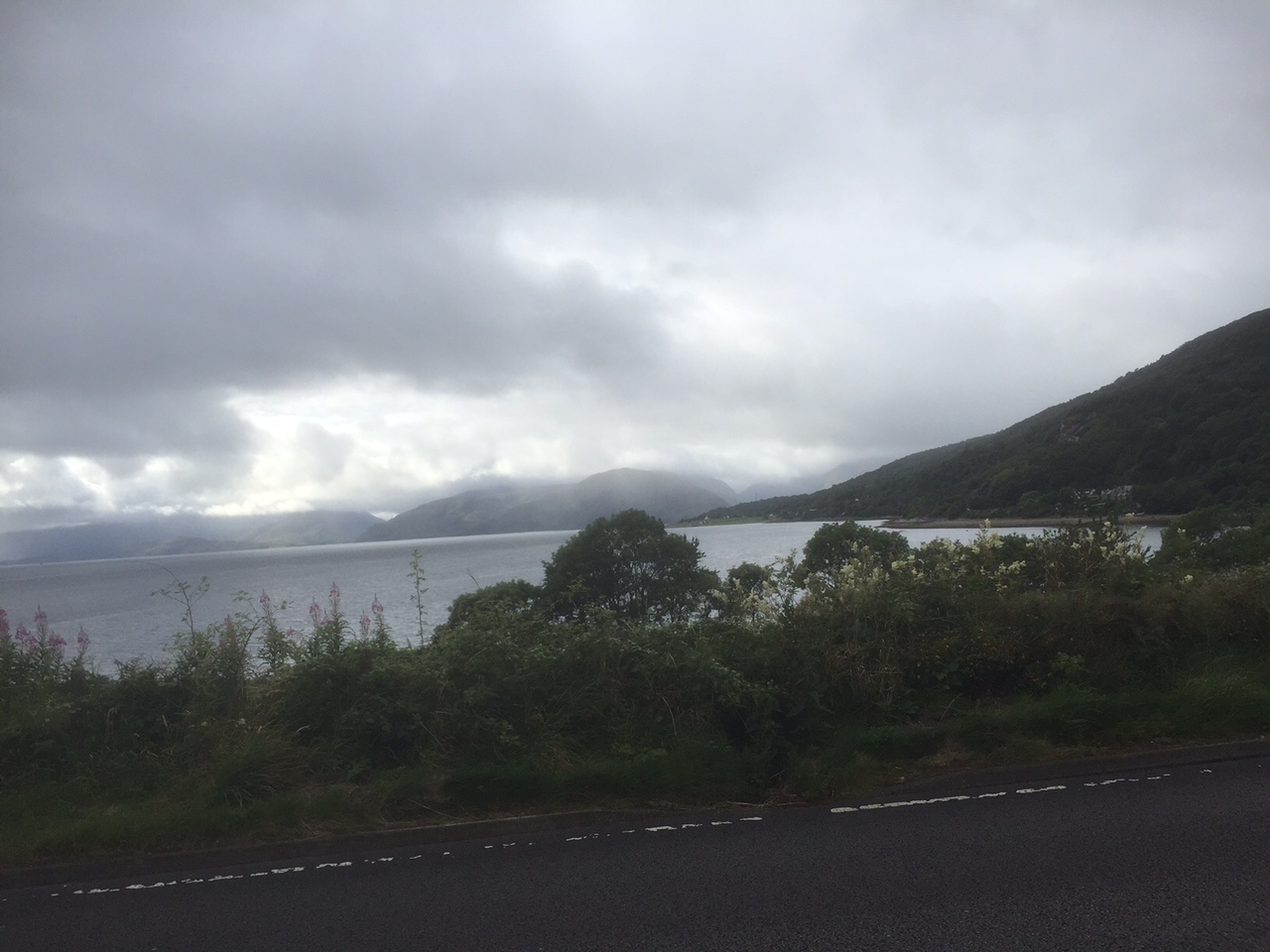 When cycling with others, you often get close to the bike in front to get pulled along in their slipstream... so when not looking at the scenery, you tend to spend a lot of time watching the rear wheel of the bike in front - and yes the game is to get very close - 8 inches apart is not uncommmon - to get max slipstreaming, though this can be a challenge if the bike in front uses their brakes.
I spent a lot of time today following Nick.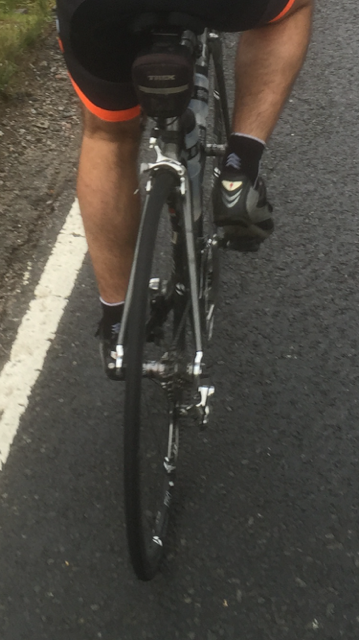 And then GLENCOE starts to rise in front of us and the weather closes in and we get cold, wet, and it gets misty - we are in the clouds I think.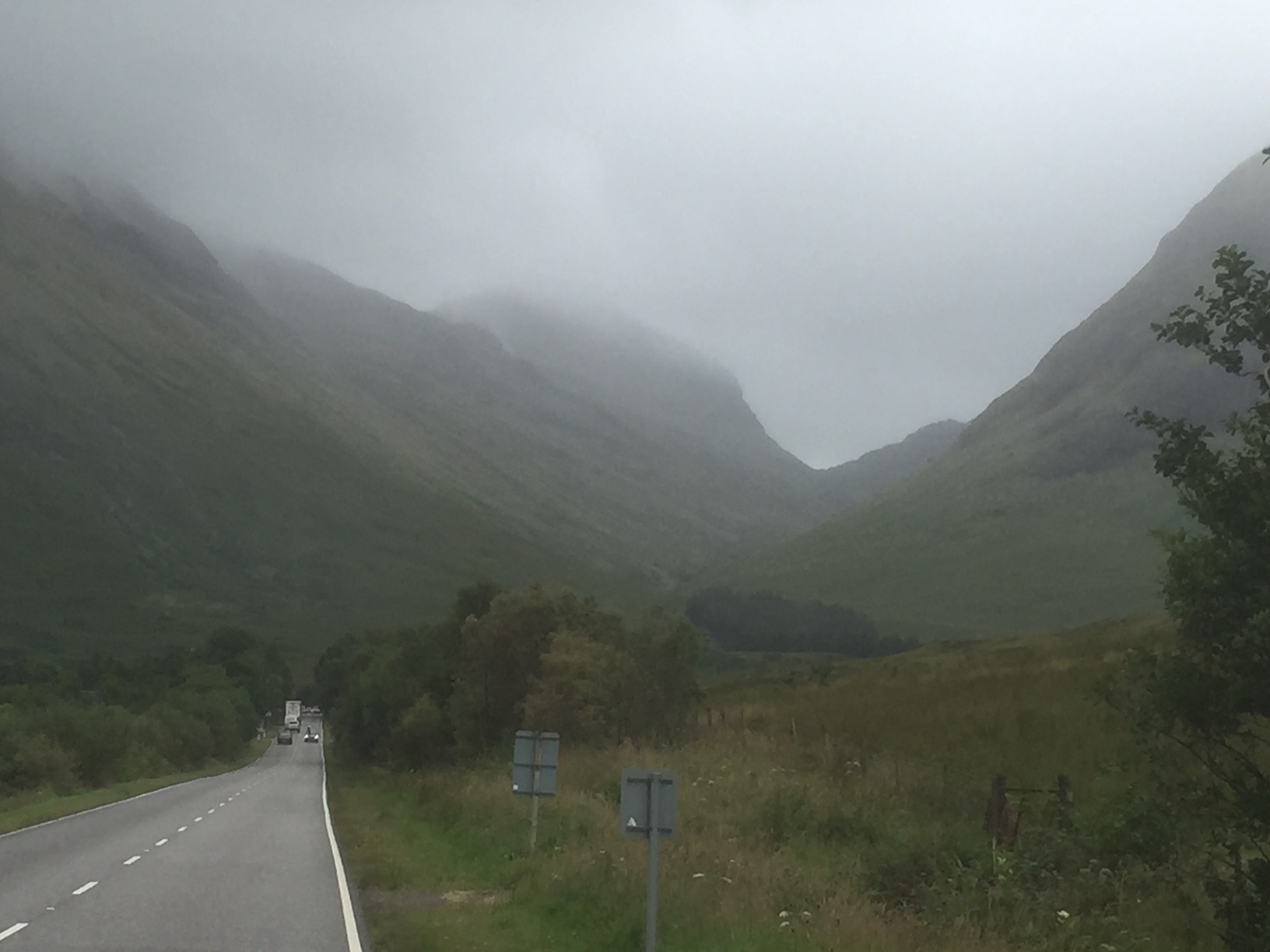 It is just wonderful. My late father-in-law, Stephen Macdonald, used to say that a bike ride was just the perfect way of seeing the countryside - not too fast to miss things, not too slow to not get anywhere. Perfect speed - and I could feel what he meant as Glencoe slowly became all around us.
Nick was enjoying Glencoe too.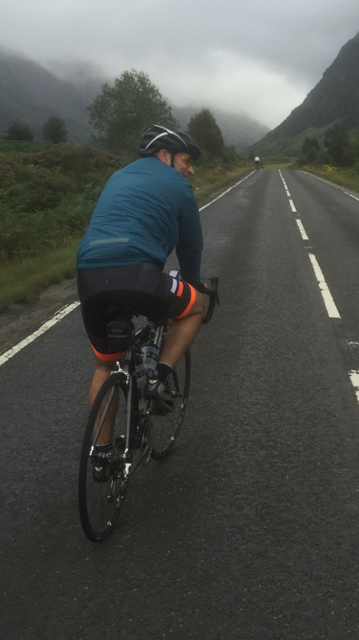 But sadly with the weather the way it was there was no high view, just clouds.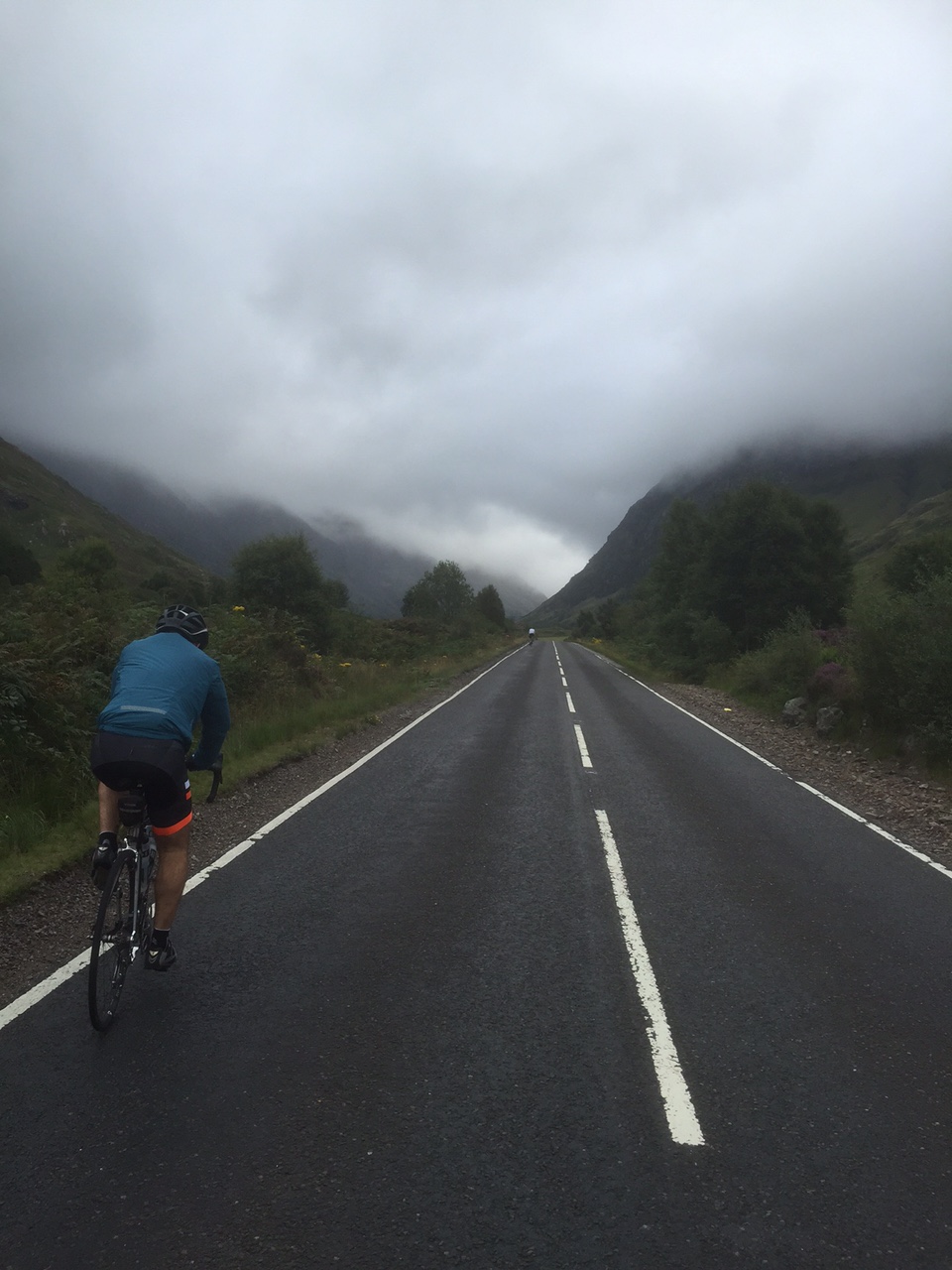 And there were many cars of tourists (but they seemed warm and dry... and missing everything as they went by too fast).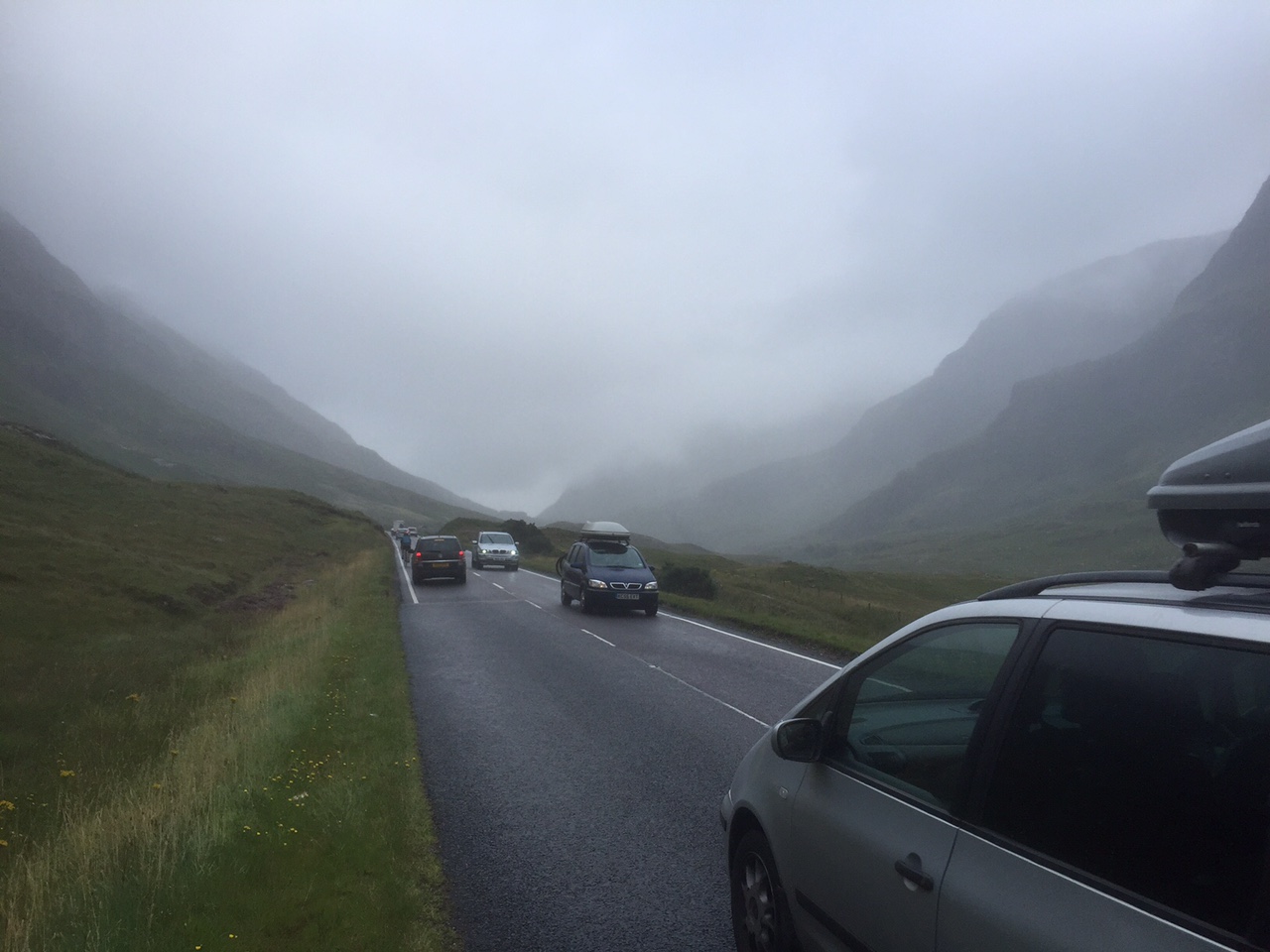 And the mountains rise up on either side of the road.
There was some blue sky as the day was coming to an end. This is from our hostel which was just on the eastern end of Glencoe.
The ride into and through Glencoe was just fantastic and the majestic mountains in the mist was just awesome. I really felt close to nature and our land - and I thought about my family's Macdonald ancestors in this place and the trauma the clan went through in 1692 when they were murdered in their beds while guests.
It was just awesome to cycle through this place and to feel so small and so exposed.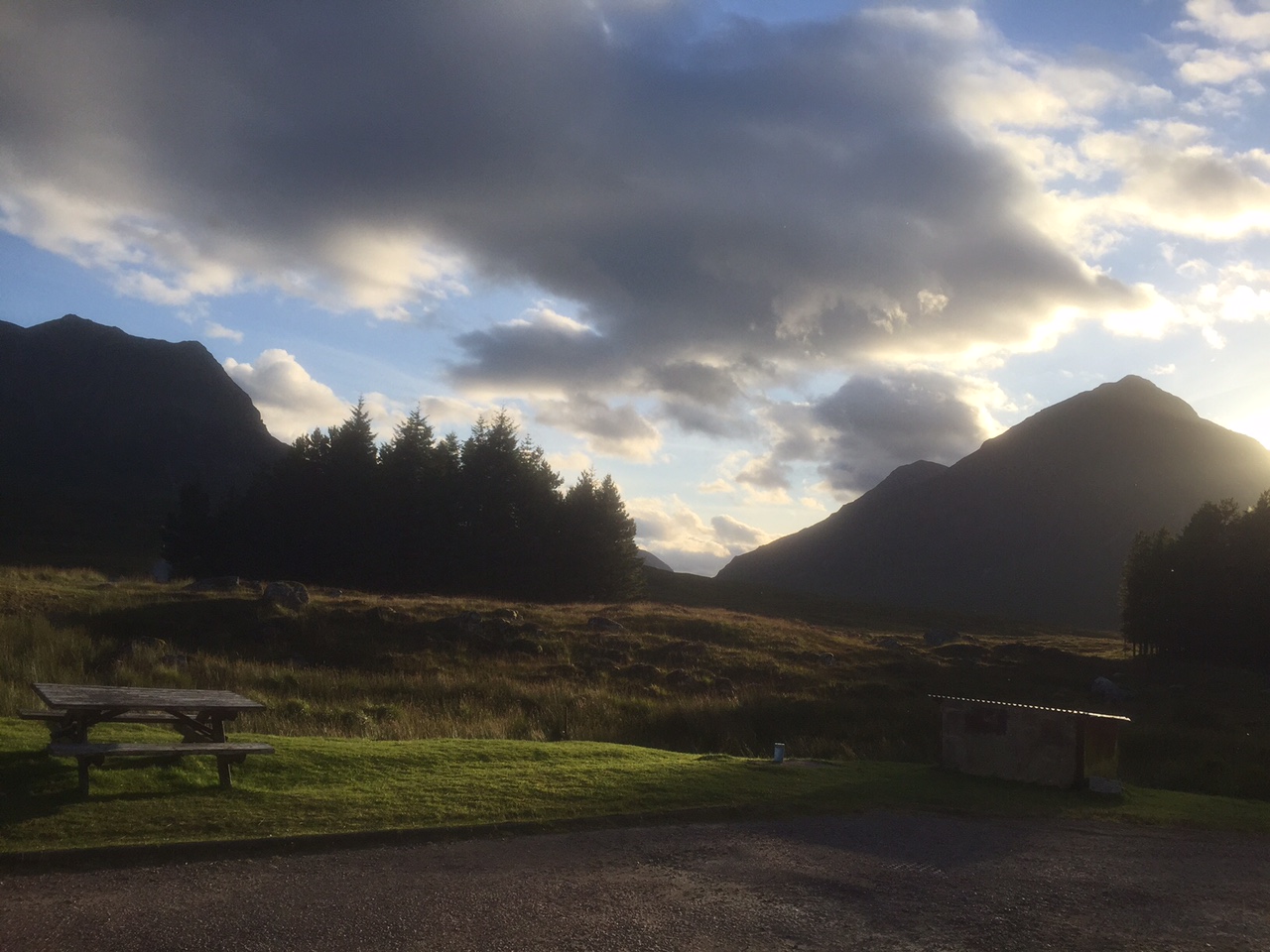 Richard enjoying dinner after a long day.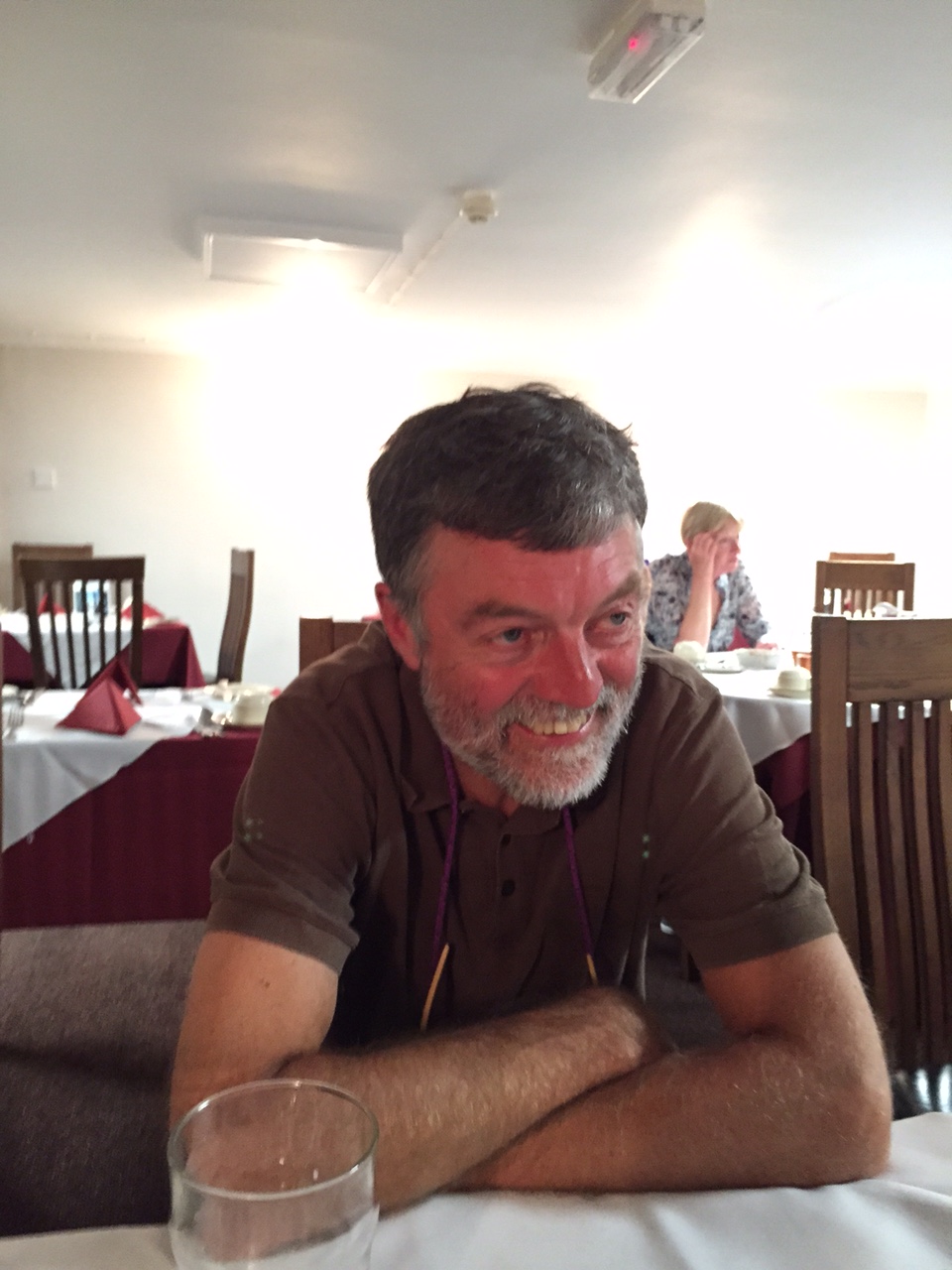 So the second day was done.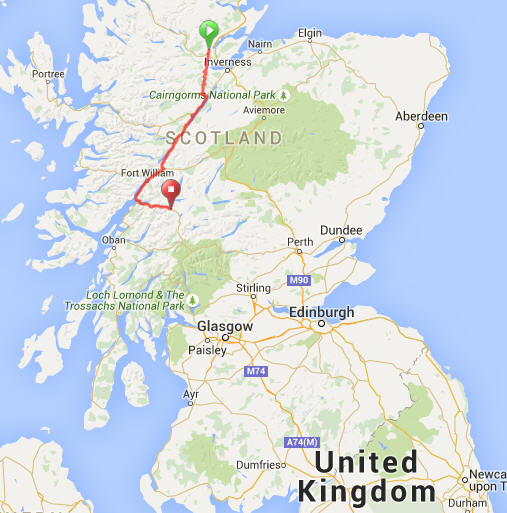 .
And there was a big climb at the end up Glencoe.

.
So the stats: cycled 101 miles, ave. speed 12.3 mph, 8:16 hrs on the bike, climbed 4,807 feet, ave. temp 11.4 centigrade.
[
TOP
] [
back to day 1
] [
next to day 3
]